Nautical Products:

Images of products.
Spare Parts Interiors:
Shrouds and polycarbonate thermoformed parts
Injection plastic parts
Injection foam armrests
Metal ash - trays
Every kind of placard
Seat tables
Bottom and back seat cushions
Seat covers
Curtains
Cushion covers
Magazine racks
Blankets
Headrest covers
Sidewall panels, dado panels, ceiling panels, etc.
Cut & sewn floor carpets
Thermo - acoustical insulation blankets
Latch

Images of products.
Machines:
Termoforming machine
Plain Machines for textiles
Triple Machines for textiles
Bording machine for carpets
Suctioned benches for polyurethanic foam manufacturing
Composite materials processing machines (numerical control)
Vacuum coating machine (dim. 2600 * 1700)
Transportation vehicles
Images of machines.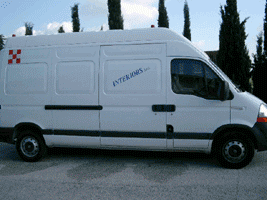 Mechanics:
Trolleys
Metallic parts
Tools
Adapters
Services:
Fabric dry-cleaning
Cutting carpets according to cabin lay-outs
Parts stocking
Motor vehicles and staff with possibility of access to cross customs